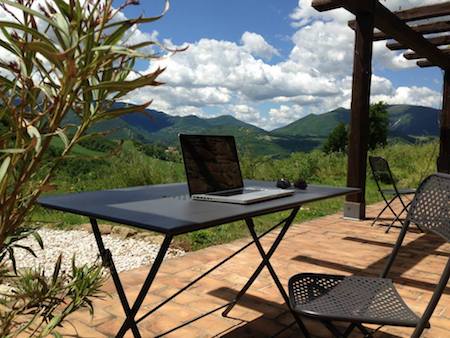 While we are headquartered in Chicagoland/Northwest Indiana, Aradise is a virtual marketing team, so you can't exactly stop on by and check us out. (We'd probably be in our jammies anyway, and it might be a little awkward). However, we do enjoy meeting our clients! If you are a Chicagoland or Northwest Indiana local we love to meet our clients or potential clients. We would love to buy you a cup of coffee and talk shop.
Mostly our small network of professionals work across the country in various inspirational places. Most work from home, a coffee shop or at a park while a few are partner agencies working in their own office locations. Some will even be working while laying in a hammock by the pool. Don't let the environment fool you; by working as a fluid, adaptive, even stress free network of experts, we can provide you with the best team to meet your unique needs. And You can find us on the web or in many places of the ever expanding social network. The best way to contact us is via email and by using the Contact Form or you can call us at (219) 878-1141.
We hope to hear from you soon! We can't wait to start working with you on your next project!